Our team at Del Rio & Caraway, P.C. is pleased to announce that partner Daniel Del Rio was listed as one of America's Top 100 Personal Injury Attorneys. We are all proud of Daniel and his impressive achievement. Based on the caliber of his work, and dedication to client service, we can say that Daniel deserves to be listed among the best personal injury attorneys in America.
America's Top 100 Personal Injury Attorneys is among the different lists compiled by America's Top 100 LLC in recognition of the most qualified and accomplished professionals in their fields. Membership to these lists is strictly invitation-only after the America's Top 100 staff conducts a thorough, multi-phase evaluation and selection process.
The membership selection process involves a comprehensive evaluation of the following factors: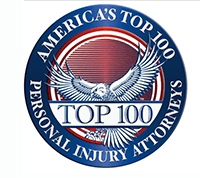 Client satisfaction
Noteworthy achievements
Reputation among their peers
Statistical analysis of each candidate's professional accomplishments
The candidate's involvement in their respective communities
Third-party research
Membership to the Top 100 Personal Injury Attorneys list is reserved for those personal injury attorneys who are unparalleled in their ability to deliver excellence while adhering to the highest ethical standards. The lists compiled and published by America's Top 100 serve to aid consumers in identifying the best of the best in each profession while fostering professional networking among the country's preeminent professionals.
You Deserve the Best in Personal Injury Advocacy
If you've been injured as a result of someone else's negligent or wrongful actions and are looking for the best personal injury attorney to press your claims, you've come to the right place. At Del Rio & Caraway, P.C., our legal team tenaciously works under the leadership of one of the best personal injury attorneys in the entire country: Daniel Del Rio. We are devoted to making sure your right to be compensated for the injuries you suffered due to someone else's actions is appropriately exercised.
Call us at (916) 229-6755 or contact us online to schedule an appointment with one of our distinguished counselors at Del Rio & Caraway, P.C.