On our Facebook page, we asked the question: "How well do you know common traffic signs?" Although drivers see many of the same signs every day, they may not be as aware of the meaning of each sign as they should be. There are also many signs that are not frequently used, and some drivers may not know the meaning of at all.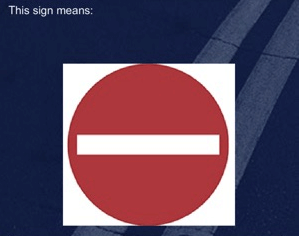 Our post featured a red, circular sign that has a white line horizontally through the center. We provided four possibilities for what this sign could represent: Does that image signal "Do Not Enter"? Does it tell drivers they are not allowed to make a U-turn at that location? Or does it identify places on the road to stop, or yield.
The answer to our question was A, the sign means "Do Not Enter"! This type of sign may appear as the image shown in our Facebook post, but can also include the words "Do Not Enter" printed on the sign.
Learning how to drive doesn't stop once you get your license. You may be a seasoned driver, but it is still important to refresh yourself on safety topics that seem simple, such as traffic sign recognition. Staying up to date on traffic laws will help keep you and other drivers on the road safe.
Follow our Facebook page for updates on our firm, tips, fun facts, blog posts, and more safety-focuses questions!
The attorneys of Del Rio & Caraway, P.C. represent people who have been injured in motor vehicle accidents, including those involving cars, trucks, bikes, motorcycles, and limousines. If you have a collision case, contact us to schedule a free consultation.
You can schedule a free case evaluation from the Del Rio & Caraway, P.C. team through our contact form or by calling (916) 229-6755.