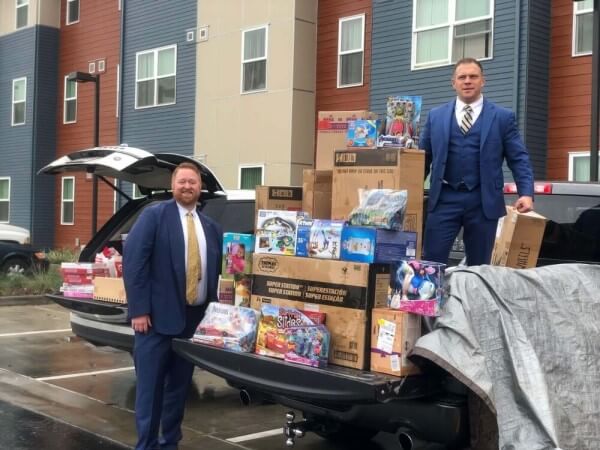 Our firm banded together with Good Day Sacramento, Les Schwab Tires and many other local businesses to send truckloads of toys to less fortunate families this holiday season. Attorneys Dan Del Rio and Charles "Chuck" Caraway attended the delivery, which took place with a "caravan" of overfilled vehicles and volunteers dressed as Santa and Mrs. Claus.
Del Rio & Caraway, P.C. donated 251 toys to the drive after hosting an online challenge in which we gave away a new toy for each "like" we received on our Facebook page. Our truck full of toys joined the ample donations of other businesses and community members, resulting in a wonderful turnout for the local drive.
We wanted to help with this fantastic cause specifically because, as advocates for those who have suffered financial losses in accidents and acts of negligence,
"we've seen a ton of situations throughout the year when people are unfortunately left with much less."
Dan Del Rio went on to state:
"When it comes to the holiday season this is the time of all times that we wanted to try to give back and really help people have a happy Christmas, make sure that their families all had something to look forward to."
Similarly, Chuck Caraway was delighted to see "thousands of gifts" going out to families in need.
Making Hard Times Better
Although we are actively engaged in our community in countless ways, this toy drive, in particular, reflects our philosophy as a firm. Our compassionate legal team aims to improve the most difficult times in our client's life with clear, personalized guidance and consists of real people getting real results for real injuries.
At our firm, we also believe, above all else, that our clients are people – not numbers. As such, we are available 24/7 and communicate openly with our clients throughout the entire legal process. Taking the time to listen and understand our client's needs gives us the ability to apply our skill and experience and pursue outstanding results for each and every person we represent.
Get in Touch
For caring and compassionate legal help, look no further than Del Rio & Caraway, P.C. Whether we are gathering toys for the less fortunate members of our community or pursuing justice and compensation for our clients, we always give it our all – and we truly care about the people we help!
Talk to a real person and a team of legal professionals today at (916) 229-6755 or request a free, in-person consultation with our quick, easy contact form.
Check out Dan and Chuck's interview on Good Day Sacramento:
We look forward to providing you with the assistance you need and fighting for a brighter future on your behalf!