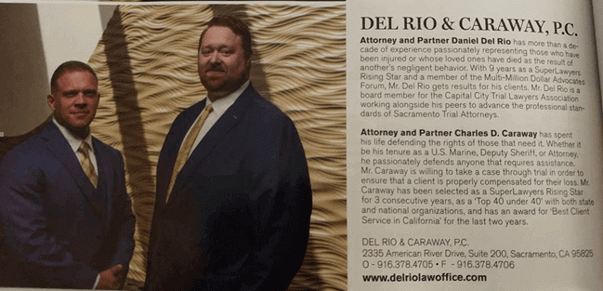 The legal team at Del Rio & Caraway, P.C. is honored to announce that two of our attorneys, Daniel R. Del Rio and Charles D. Caraway, have been selected for inclusion in Sacramento Magazine's Top Lawyers List for 2019. Each year, this respected publication partners with Professional Research Services to recognize noteworthy legal talents practicing in the Sacramento area. The magazine covers over 50 fields of law, including personal injury, criminal defense, commercial law, immigration, and general litigation.
To identify the cream of the crop, Professional Research Services surveyed licensed Sacramento attorneys and asked them to nominate candidates who have demonstrated the highest standards of professional excellence. Each participating attorney was allowed to recommend up to three legal professionals per each area of practice. The qualifying nominees were then evaluated based on the survey results, their respective career histories and professional achievements, and their standing with The State Bar of California. Only the lawyers with the best recommendations and highest number of votes were included in the 2019 list.
Not only are Attorney Del Rio and Attorney Caraway on the Top Lawyers List for 2019, they are also a included in a featured spotlight in the publication!
Attorney Daniel R. Del Rio
Daniel R. Del Rio has dedicated his career to representing the wrongfully injured across California. As the lead attorney at Del Rio & Caraway, P.C., Attorney Del Rio has utilized his experience and keen legal insight to recover millions of dollars on behalf of his clients. In fact, his exceptional track record has earned him countless awards, honors, and professional accolades, including recognition by Super Lawyers® for 9 consecutive years.
Attorney Charles D. Caraway
Charles "Chuck" D. Caraway joined our firm last April and continues to prove his merit as a brilliant attorney each day. Attorney Caraway's impressive and diverse career history isn't just limited to the legal arena; he previously served our country as a U.S. Marine and a Deputy Sheriff. Today, he practices personal injury litigation exclusively and has devoted his career to helping the wrongfully injured secure life-changing settlements and verdicts.
Del Rio & Caraway, P.C. congratulates Attorney Del Rio and Attorney Caraway for this remarkable achievement. If you require the services of an award-winning legal team, contact our firm at (916) 229-6755 to schedule a free consultation. We have offices conveniently located in Sacramento and Roseville. However, if you're interested in reading the Sacramento Magazine's Top Lawyers List for 2019, please visit their website and don't forget to check out the piece featuring our two attorneys.