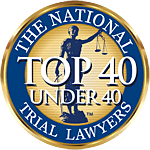 For the second year in a row, Founding Attorney Dan Del Rio has been named one of The National Trial Lawyers' Top 40 Under 40 for civil plaintiff's lawyers in California. This award recognizes litigators who have experienced courtroom success and have a reputation for showing leadership and community involvement despite being in the early stages of their careers. At Del Rio & Caraway, P.C., we give back to our community because it's the right thing to do. However, we are grateful to see our efforts recognized, and Dan's hard work rewarded, by this prestigious organization.
A Chance for Exclusive Learning and Mentorship
After being nominated by their peers, candidates for the Top 40 Under 40 are further scrutinized through third-party research to determine whether their reputation extends beyond the courtroom. The final 40 from each region are invited to become members of The National Trial Lawyers, from which they will receive benefits including:
Access to quality Continued Legal Education courses
Advocacy training
Invitations to exclusive webinars
A chance to learn from some of the best trial lawyers in the country
Open only to criminal defense and civil plaintiff's attorneys, The National Trial Lawyers brings together a group of skilled litigators to further enhance their skills so they can meet the legal needs of their clients. The organization is also known for its public outreach and efforts to protect injury victims' right to a trial by jury. Dan is humbled by the invitation to remain a member of the group and looks forward to working with its members to make a difference.
If you've been in an accident, Del Rio & Caraway, P.C. is here to help. Call us at (916) 229-6755 for a free consultation.