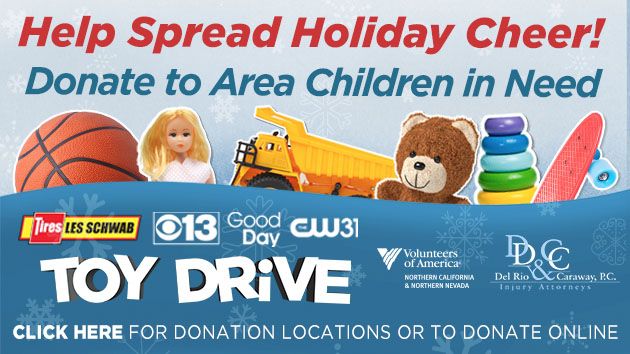 In partnership with Volunteers of America, CBS Sacramento, and myriad local businesses, Del Rio & Caraway, P.C. is proud to participate in the annual Les Schwab Toy Drive to ensure that children from disadvantaged communities are able to celebrate this holiday season with joy.
Our attorneys genuinely care about our community, which is why our participation in this toy drive has become a tradition at our firm. In 2019, Del Rio & Caraway, P.C. donated 251 toys through this drive — one for every new like our Facebook page received during an online challenge.
With the COVID-19 (also known as coronavirus) pandemic continuing to have a negative impact on disadvantaged communities in California and throughout the United States, our firm believes it is all the more important to observe our firm tradition this holiday season. Therefore, we will be hosting another Facebook challenge this year: One like equals one toy donated to help less fortunate children and their families. To participate, please visit our Facebook page. The toy drive ends December 13, 2020.
Our participation in the Les Schwab Toy Drive is just one of our many philanthropic efforts to help uplift Sacramento communities. We are dedicated to fighting against negligence for the rights of injured consumers and residents in car accidents, motorcycle accidents, catastrophic injuries, Uber and Lyft accidents, and more. The Multi-Million Dollar Advocates Forum, American Association for Justice, Best Attorneys of America, and the National Trial Lawyers are just a few of the many legal industry organizations to award our skill in navigating a wide array of injury claims.
To work with legal advisers who truly care, contact Del Rio & Caraway, P.C. online or call (916) 229-6755 today. Se habla español.